CUT28 Intelligent Portion Cutter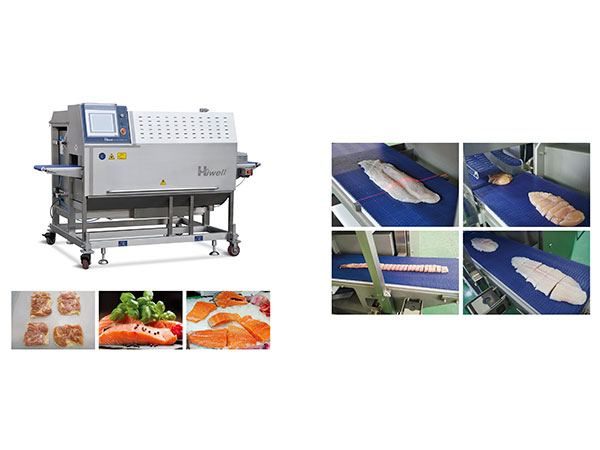 With two-dimensional measurement of irregular meat and analytical calculation software, the portion cutter can work out the cutting length and realize a multiple-angle cutting. CUT28 can guarantee sure that all pieces are of the same weight or of required weight after cutting. It can be applied to cutting fresh raw meat (thawed meat), with thickness ≥40mm. It is mainly applied to fish and poultry, such as fish fillet, fish steak, chicken nugget, chicken steak, etc.
Application
1. Cut meat into pieces in a fixed weight as required.
2. Remove the head and tail and conduct fixed weight cutting.
3. Remove the head and tail which does not meet the requirements, and cut the meat according to the specified width, size or weight.

Features
1. With two-dimensional measurement of irregular meat, the software can keep a required cutting weight with analytical calculation.
2. High precision cutting with a weight error ≤2%
3. Cutting parameters can be adjusted easily, and set directly by touch screen.
4. Multiple cutting angles available, including 45 degree and 90 degree.
5. It can be applied with different blades depending on different meat, including Europe standard blades.
6. Imported modular belt with a long service life.
7. SIEMENS electrical parts, with CE approved safety protection device.
8. HACCP standard 304 stainless steel and engineering-plastics are adopted, so that the cutter is easy to clean, featuring easy operation and low maintenance cost.
Technical Parameters
Model: CUT28
Belt width: 254mm
Belt speed: 5~20m/min
Weight error:≤2%
Cutting speed: 1000 cuts/min
Max. product height: 50mm
Max. product length: 650mm
Max. product width: 240mm
Input / Output height: 1050±50mm
Power: 7.55kW
Overall dimension: 2512×1200×1680mm