Horizontal Slicer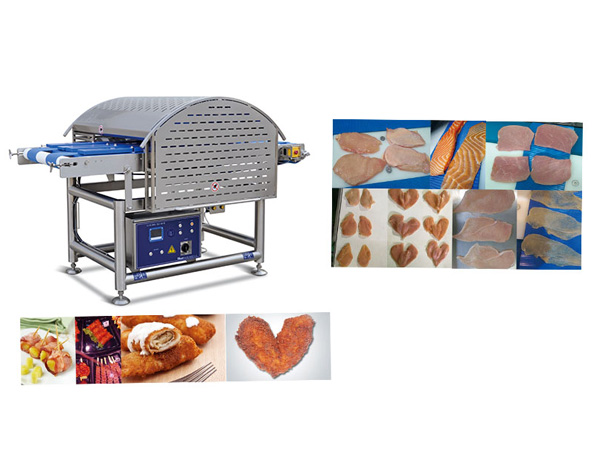 The FQJ2-200-VII horizontal slicer is a multi-functional meat processing device that has different slicing options for various meats. The meat slicer can perform butterfly slicing or standard horizontal cutting for fresh pork, beef, and lamb and poultry products.
Features
1. High cutting precision, the slicer can perform multiple slices in single cut with a minimum thickness of 3mm and maximum thickness of 50mm.
2. Through blade cassette changing, the switch between the chicken breast slicing function and butterflying function as well as cutting thickness is quickly and easily performed.
3. The floating upper belt leaves room for different precut thicknesses.
4. Multilayer cutting of different thicknesses.
5. Double feeding operation with an output up to 120 pieces/min.
6. Long life modular mesh belt.
7. Siemens electrical parts, CE approved safety service.
8. Made from stainless steel and high quality engineering plastic that is easy to clean and meets HACCP standards.
9. Easy operation and low maintenance cost.
Benefits
1. Precise cutting thickness.
2. Minimal labor cost.
3. Can be used with the strip cutting machine to produce various meat strip products.
4. Can work with the intelligent portion cutter.
Technical Parameters
| | |
| --- | --- |
| Model | FQJ2-200-VII |
| Belt width | 2×200mm |
| Belt speed | 3~15m/min |
| Cutting thickness | Min.: 3mm Max.: 50mm |
| Cutting speed | 120pcs/min (Dual-lane) |
| Max. product width | 140mm |
| Input/Output height | 1050±50mm |
| Power | 1.9kW |
| Overall dimension | 1780×1150×1430mm |